Top Outdoor Fitness Equipments Manufacturer in India
We are a prominent manufacturer, designer and supplier of Outdoor Fitness Equipment in Delhi. Kidzlet Play Structures Pvt. Ltd. is one of the leading Open Gym Equipment Manufacturers in Delhi, where you should be. Doing exercise is fun, but doing outdoor exercise is more fun and healthy. Nowadays, more and more people love the idea of exercising outdoors; hence, you may find Open Gym Equipment in almost every second playground around your home or office.
If you are also planning to add them to your Schools, Playgrounds, Societies, Clubs, Universities, etc., Our range is excellent enough to surpass your expectations. We promise that our offered Playground Equipment will give you value for money.
What is Outdoor Fitness Equipments?
Open gym equipment refers to fitness equipment designed for use in open spaces, such as parks, gardens, community centres, schools, or even your backyard. Unlike traditional gym equipment that is typically found in fitness centres, open gym equipment is accessible to everyone, providing an opportunity for individuals of all fitness levels to engage in physical activity.
How To Use Open Gym Equipment?
Using open gym equipment is a great way to stay active and improve your fitness. Here are some general guidelines on how to use open gym equipment safely and effectively:
Start with a warm-up: Before using any gym equipment, it's important to warm up your muscles and prepare your body for exercise. Perform dynamic stretches or light cardio exercises for about 5-10 minutes.
Familiarize yourself with the equipment: Take some time to understand how each piece of equipment works. Read any instructions or labels provided and pay attention to any safety guidelines or warnings.
Adjust the equipment: Most gym equipment is adjustable to accommodate different body sizes and fitness levels. Ensure that the equipment is set up correctly for your height and body proportions. For example, adjust the seat height on a stationary bike or the weight settings on a weight machine.
Maintain proper form: Proper form is crucial to prevent injuries and get the most out of your workout. If you're unsure about the correct form for a particular exercise or equipment, consider consulting a fitness professional or using online resources to learn the correct technique.
Start with lighter weights or resistance: If you're using weightlifting equipment, start with lighter weights or resistance and gradually increase as you become more comfortable and confident with the movements. This helps reduce the risk of strains or other injuries.
Use spotters if necessary: When using heavy free weights or performing exercises that require assistance, such as bench presses or squats, it's a good idea to have a spotter nearby. A spotter can help ensure your safety and provide assistance if needed.
Product Details:
| | |
| --- | --- |
| Usage/Application | Play Ground |
| Material | GI |
| Automation Grade | Manual |
| Size/Dimension | 1600 x 600 x 1600 mm |
| Surface Finishing | Color Coated |
| Brand | Kidzlet |
| Load Capacity | Max 100 kg. |
Benefits of Open Gym Equipment:
Accessibility: Open gym equipment breaks down barriers to fitness by offering free and easily accessible workout options for individuals who may not have access to or prefer not to go to a traditional gym. It allows people to exercise at their convenience, fitting workouts into their busy schedules.
Outdoor Experience: Exercising in open spaces brings the added benefit of being in nature. It allows individuals to enjoy fresh air, soak up Vitamin D from sunlight, and experience the uplifting effects of being outdoors while engaging in their fitness routines.
Versatility: Open gym equipment comes in various forms, catering to a wide range of fitness goals and preferences. From strength training stations to cardio machines and bodyweight exercise structures, there are options available for individuals of all fitness levels and interests.
Social Engagement: Open gym equipment installations often become hubs for community engagement. They encourage social interactions, offering opportunities for people to connect and motivate each other in their fitness journeys.
Types of Open Gym Equipment:
Strength Training Stations: These include equipment like pull-up bars, dip bars, parallel bars, and adjustable benches. They provide individuals with the means to develop strength, build muscle, and improve their overall fitness.
Cardio Machines: Open gym equipment options for cardiovascular workouts may include elliptical trainers, stationary bikes, and rowing machines. These machines help improve cardiovascular endurance, burn calories, and enhance overall fitness levels.
Bodyweight Exercise Structures: These structures, such as monkey bars, balance beams, and climbing walls, promote functional strength, agility, and flexibility. They provide opportunities for individuals to engage in bodyweight exercises like calisthenics and parkour.
Outdoor Fitness Trails: Outdoor fitness trails often feature a series of exercise stations placed along a walking or jogging path. These stations may include various equipment such as step-up platforms, push-up bars, and sit-up benches, enabling users to engage in a full-body workout while enjoying nature.
Benches: Weight benches provide a stable surface for exercises like bench presses, step-ups, and more.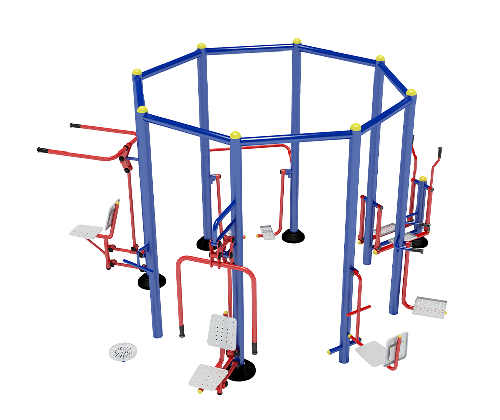 Best Practices for Using Open Gym Equipment:
Warm-up: Always warm up before using open gym equipment to prepare your body for exercise and prevent injuries. Incorporate dynamic stretches and light cardio exercises into your warm-up routine.
Proper Technique: Ensure you are familiar with the correct form and technique for using each piece of equipment. If needed, seek guidance from a fitness professional to avoid any potential risks or injuries.
Safety First: Take necessary precautions to ensure your safety while using open gym equipment. Use appropriate footwear, maintain proper hygiene, and follow any safety guidelines or rules posted at the installation site.
Consider Weather Conditions: Be mindful of weather conditions, such as extreme heat, cold, or rain, and adjust your workout accordingly. Stay hydrated and protect yourself from the elements.